Product Review: The Sugar Smart Box
Recently a friend told me of this service that offers a monthly membership that delivers samples of diabetes-friendly snacks to your home.
The sugar smart box: Type 2 diabetes-friendly snacks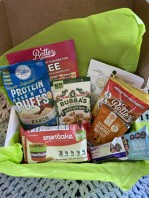 She bought it for her diabetic father, who really enjoys getting and trying the products each month. As she talked about the different things and that her father really has liked almost all of the products, I decided to give it a try. I signed up for the box for just under $30 a month. It arrived at my home almost 2 weeks later. It was jam-packed with 8 different samples. I was excited to try everything.
Better Than Good Snacks' Chicago-Style Pizza Protein Puffs
The 0.88 bag was filled with small puffed balls seasoned with Chicago-style pizza flavoring. It was pretty good, moderately filling. I would purchase these again.
Better Than Good Snacks' Ranch flavored Veggie-Infused Protein Grab N' Go Puffs
The 0.88 oz bag was filled with small puffed balls seasoned with ranch flavor. The ranch flavoring was packed with a bit of a kick, a little stronger than I expected. The bag was moderately filling. Overall, these were satisfying and are a product that I would purchase again. It was also nice to know that these were made in my home state of Ohio. There was also a flyer in the box with an offer to try all of their flavors for free by just paying for shipping and handling.
Bubba's Fine Foods Thai Sweet Chili Sweet Glazed Keto Nut Mix
This was my favorite product of this box. Nuts glazed with seasonings. This product DID have a kick, but I really like flavors with heat. Very good. The most filling snack in the whole box. I will definitely be looking for this product some more.
Keyto's Key Eats Smooth Almond Butter
This was more solid than the almond butter I already had in my pantry. Not as oily. A lot easier to spread without it getting all over. I love almond butter and this brand will be on my list from now on.
Kiss My Keto's chocolate cookie dough ketogenic bar 
Small bar packed with great flavor. Moderately filling. I would eat this again, though I may not go out of my way to purchase it.
Poshi's lime and paprika steamed and marinated cauliflower snack
The flavor on this was good, but the cauliflower was soggy and it was a stretch for me to eat it. I thoroughly enjoyed the flavoring, but would not buy this product as is again. I would be much more likely to purchase a marinade of this flavor and season my own veggies with it or use it as a salad dressing.
Smart Baking Company's cinnamon smartcake
This was not only surprisingly delicious but also MOIST! In the past when I've tried similar products, even if the flavor was good, the product was extremely dry and unappealing. That was not the case here. This will definitely satisfy a sweet craving.
Über Nutrition's choc nut adapt ketobar
This was pretty good. It was almost like having a more adult, less sweet version of an Almond Joy bar. I did not find it very filling, but this would be a good snack for being on the go or during a meeting to tide you over until you can get something more substantial.
An additional coupon
An advertisement with a coupon for Pangeo Keto - Chef crafted keto foods shipped directly to your door. They offer frozen keto meals, keto baked goods, and keto snacks. The gift card/discount did have stipulations and an expiration date.
Final thoughts
Overall, the products in this package were good. Worth the $30? Maybe not so much. That said, I'm not used to buying these types of products yet either. For those who have been buying diabetes-friendly and healthy snacks, this might be worth it.
I'll continue to get this subscription for a while as it is a good way to explore some new products before I buy larger packages of the products. I will likely not continue to get it indefinitely.
This may not be something that long-term diabetics would want to invest in, but for newbies, like me, it is worth it to explore and see that flavor does not end with a diabetes diagnosis.
This article represents the opinions, thoughts, and experiences of the author; none of this content has been paid for by any advertiser. The Type2Diabetes.com team does not recommend or endorse any products or treatments discussed herein. Learn more about how we maintain editorial integrity
here
.

Community Poll
Do you find it difficult to "eat right" and stick to a nutrition plan?