Diabetes in America and Weight Loss
Last updated: March 2022
A major goal in managing Type 2 Diabetes is trying to lose pounds and reach and maintain a healthy body weight. About two-thirds of those diagnosed are currently overweight or obese, or were overweight or obese in the past. Obesity is defined has having a body mass index (BMI) – or the ratio of your height compared to your weight – of 30 or more. Overweight is a BMI of 25 to 29.9, and a normal BMI is between 18.5 and 24.9.
In our T2D in America Study, just over 62% reported they are not at all happy with their current weight and 71% of respondents reported they are trying to lose weight.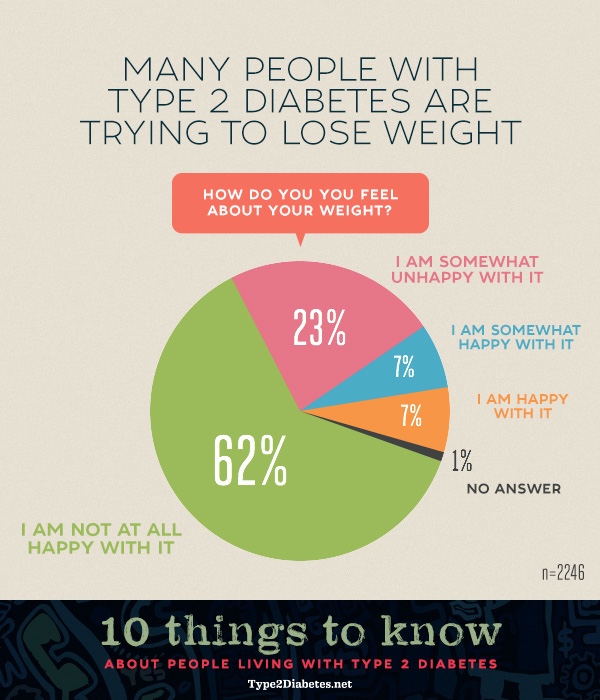 There are a variety approaches that can be taken to achieve weight loss. What kinds of foods and how much you eat can play a key role in weight loss. In our study, over half of respondents are trying to reduce calorie intake and 73% of respondents reported they are actively trying to cut back on their intake of carbohydrates. Many others noted they also are drinking fewer sweetened drinks.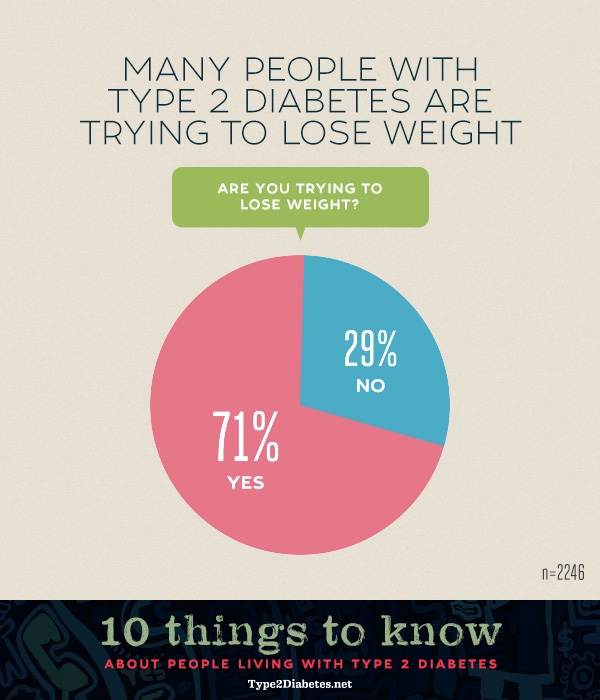 When managing Type 2 Diabetes, regular physical activity should be an essential part of the goal. Physical activity has a long list of benefits such as improving glycemic control and is an important part of reaching and maintaining a healthy weight. In our study, 62% reported they were trying to increase activity level while 34% reported they were actively exercising.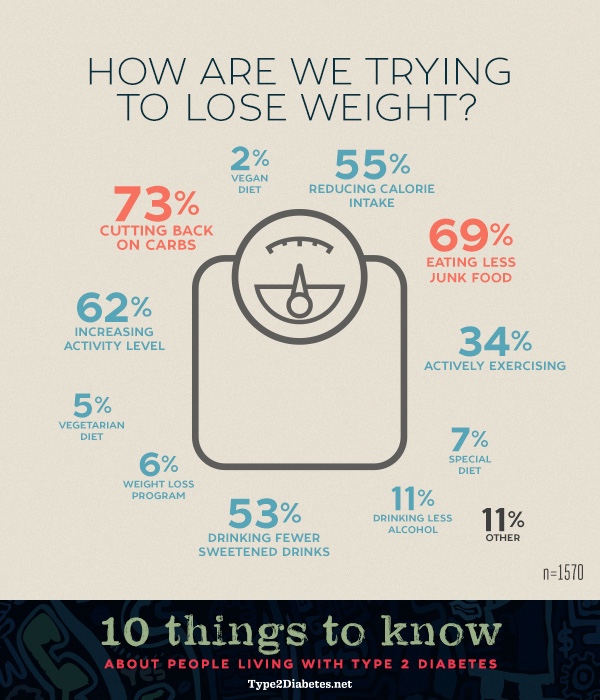 The type 2 diabetes in America Study was conducted over the internet in April 2014. The primary goal of the study was to establish an understanding of the current state and trends of patients affected by type 2 diabetes. The survey included a total of 170 questions on a broad range of topics. A total of 2,522 people started the survey. 2,379 met eligibility requirements, and 2,072 people completed the survey resulting in a high completion rate of 84%. To qualify for the survey, participants had to be type 2 diabetes patients over 18 years old and a US resident or US citizen living abroad. The study was solely developed and funded by Health Union, LLC which does not manufacture, sell nor market any product to diagnose, prevent or treat type 2 diabetes or any other disease.

Community Poll
Have you experienced any vision issues after being diagnosed with type 2 diabetes?