7 Great Apps to Help You Get Healthy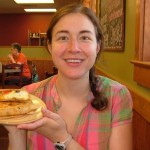 By Jen Picicci

·

March 20, 2015
You're probably reading this article on your mobile device, aren't you? And you're always looking down at your phone or playing on your tablet, right? Checking on that Words With Friends game first thing in the morning, looking at your work email or Facebook feed one more time before bed, and possibly driving your spouse batty.
Well, if you're trying to make healthy lifestyle changes, put that permanently-attached-to-your-hand-apparatus to work: your phone or tablet can provide great resources for getting and staying healthy, and not just by counting calories or carbs, either.
Here are my top picks, broken down by category, for helping you achieve whatever health goal you have in mind, and guess what? They're all free!
Exercise:
Interval Timer by Deltaworks (for iPhone and iPad) or Impetus Interval Timer (for Android)
Interval training simply means exercising at a higher intensity for short periods of time while exercising at a lower intensity (or resting) the rest of the time. This type of exercise can help you burn more calories, increase your aerobic capacity, and keep your workouts more interesting. Walk as fast as you can for a minute, walk at a recovery speed for a minute, repeat. You can do this with any exercise and use a variety of different interval breakdowns: Intense exercise for 30 seconds, rest for ten, repeat. Swim as fast as you can for a minute, rest for 30 seconds, repeat. The possibilities are endless, and these interval timer apps make keeping track of when to exert yourself and when to stop and take a deep breath simple. Program multiple workouts or use pre-programmed setup.
Map My Run or Map My Walk (for iPhone or Android)
Maybe you know you want to take a two mile walk, but have no way of knowing how far you've gone. Or maybe you want to see how long you can run for, either time or distance. These apps will allow you to track your distance, speed, and other interesting tidbits, like elevation change. Plus, when you're done with your sweat session, you can report your stats on Facebook so your friends can tell you how awesome you are and keep you motivated for more.
Argus Pedometer (for iPhone or Android)
You have your phone on you all day anyway, why not let it track your steps? Sometimes just knowing your activity level is being monitored can be the motivation you need to take the stairs instead of the elevator, and this app will also let you log other types of exercise, how much water you drink, and let you set your overall activity level and fitness goals.
Food:
Allrecipes Dinner Spinner (for iPhone and Android)
You can use this app to search Allrecipes.com's huge cadre of recipes, and easily find recipes that meet your exact criteria. You can share recipes right from the app, too, via email or Facebook. You can also save recipes as favorites so they're easy to find again, and view the recipe's nutritional information, ratings, and reviews. Figuring out what to have for dinner might be a bit easier with this app.
Fooducate (for iPhone and Android)
As you can tell by the clever name, this app is about more than just food, it's also about educating you about what you're eating. This app will tell you more than just the calories and fat grams in your food, it will also give your food a grade, from A to D, with higher grades going to more nutrient-dense foods. Use your phone to scan the barcode of an item you're thinking of purchasing, and you'll get to see a health score and get additional info on the product. The app also provides daily tips and tricks for eating healthy.
Miscellaneous:
Calm.com (for iPhone and Android)
This app will help you get into the habit of relaxing during a short (between 2 and 20 minutes) meditation session. Relaxation may provide a wide variety of benefits, including lowered blood pressure and stroke risk, reducing stress, and helping you to make better food choices. Since the sessions are short, you can fit one in anytime!
Any.do (for iPhone and Android)
This free app lets you keep a list of what goals you want to accomplish, reminds you when it's time to do something, and lets you check off when you've accomplished something. There's also something special called the Any.do moment, which allows you set an alarm for the same time each day to remind you to review your to do's so nothing slips through the cracks. Overall the app is designed to keep you on track to achieve whatever you want.
This article represents the opinions, thoughts, and experiences of the author; none of this content has been paid for by any advertiser. The Type2Diabetes.com team does not recommend or endorse any products or treatments discussed herein. Learn more about how we maintain editorial integrity here.