6 Solutions for a Healthy Vacation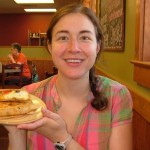 By Jen Picicci

·

July 2, 2015
Vacations are for relaxing, sleeping in, and reading the most lowbrow book you can possibly find. For many, they're also all about drinking lots of high calorie cocktails, eating heavy restaurant meals, and letting all forms of exercise go on vacation, too. But you're health conscious, so this year you're going to do things a little differently. Vacation can still be incredibly fun and relaxing, even when you put a healthy spin on it.
Here are six great ideas for eating well and staying active, even if you spend the entire afternoon asleep in a hammock.
Rent a house or hotel room with a kitchen so you can prepare your own meals. This is a great health AND money saving tip. It's often not much more expensive than renting a regular hotel room to get a place with a kitchenette, or even to rent a house with a full kitchen. When you do this, you can keep plenty of fresh fruit on hand for breakfast time, plus whatever else your household likes, including whole grain cereals and breads, low sugar yogurts, or veggies and eggs. Lunch time and dinner can be a snap, too, if you keep salad fixings, frozen bags of steamable veggies, and instant brown rice on hand. Even if you don't prepare all of your meals at home, having a kitchen is a great way to make sure at least some of your meals fit in with your goals.
Beware of buffets. If you're going on a cruise or to an all-inclusive resort, watch out for the endless seas of food around every corner. Limit yourself both in the number of times you'll eat per day (cruises are known for having food practically 24/7) and the number of plates from which you'll eat. A great idea is to walk the entire buffet without a plate in hand and pick out the three or four things that look the very best. When you've decided, grab a plate or bowl and just get those few things that looked the best. Also, be sure to put at least one fruit or veggie on your plate at every meal.
Start with a salad at dinner. Studies have shown that when you're hungry and alone with a vegetable, you will eat not only eat more of it than you would if it was on your plate with other items, but you'll eat fewer calories from the foods in the main meal. Buffet or sit-down restaurant, start with a salad (a veggie-filled soup is a good option, too).
Enjoy treats, but make sure they're special. If you go to the same town for vacation every single summer, you're bound to have some favorite dishes. Maybe it's a cone of locally made ice cream, maybe it's a bowl of fresh made clam strips. Do not, I repeat, do not deprive yourself of the really special treats that make vacation feel like vacation. However, remember that soft serve ice cream from the buffet, the stuff that's there every single day and doesn't even taste that good, is not special. Nor is the stale bread in the basket before dinner. Eat what you truly want, but make sure it's special and worth it.
Walk everywhere you can. Can you spend vacation in a cute little location where almost everything is walkable? Are you staying at a miles-long beach? Did you rent a cabin in the mountains? Then take advantage of the scenery and get out there! Walking is such a great way to stay active, and there's no reason not to keep it up on vacation.
Take an active vacation or stay at a place that offers lots of activities. Perhaps you'll consider taking a vacation specifically designed to keep you moving. Walking tours, hiking vacations, biking vacations, or trips with lots of snorkeling or scuba diving, all keep your body moving throughout the day. Or, if you're into a more traditional sojourn, stay somewhere that offers plenty of activities. That all-inclusive resort probably has lots of great activities available, so take advantage of them! Go tandem biking with your spouse, go on the snorkel tour, play tennis, take the yoga class. Being active on vacation doesn't mean you can't still get some R&R.
This article represents the opinions, thoughts, and experiences of the author; none of this content has been paid for by any advertiser. The Type2Diabetes.com team does not recommend or endorse any products or treatments discussed herein. Learn more about how we maintain editorial integrity
here
.